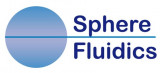 Sphere Fluidics Limited
Sphere Fluidics has developed unique, patented products for ultra-high-throughput, single cell analysis (Cyto-Mine) and provides novel R&D services in this area for rapid biopharmaceutical discovery and devt.

SYNthesis med chem
SYNthesis med chem is a global contract research organisation providing both synthetic and medicinal chemistry services. Established in 2007, the company operates a unique, "best of both worlds" business model combining Western medicinal chemistry and project management expertise with cost effective and scalable synthetic chemistry based in China.
The company's medicinal chemists, based in the UK, Australia and the USA provide the design, innovation, creativity and problem solving expertise required to complement the skills and capabilities of the company's synthetic chemists based in Shanghai and Suzhou, China.
SYNthesis medicinal chemists are all experienced and highly skilled scientists with a track record of delivering clinical candidates, a passion for discovering new medicines and a comprehensive insight gained from managing more than 100 projects covering all phases of the pharmaceutical R&D pipeline. They also act as project managers for all custom synthesis and medicinal chemistry projects.